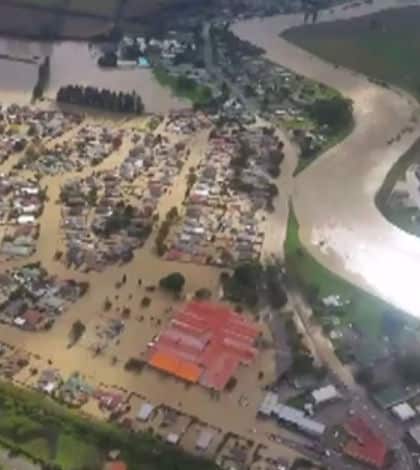 The entire town of Edgecumbe in the North Island has been evacuated, after severe flooding.
2000 people have had to evacuate. Flood waters have affected about 600 homes in the town. Tractors and boats helped take people to saftey.
The rain, caused by tropical storm Debbie, has caused the Rangitaiki River to burst its banks.
Meteorologists have described the extreme weather as a once-in-500-years event.
In Edgecumbe the water is said to be as high as 2metres in some areas.
Police say they will patrol the evacuated areas and have erected barriers to prevent residents from returning.
Deputy Prime Minister Paula Bennett said that the authorities' message to affected residents was: "Get out and stay out."
The storm is also hitting the South Island as well. Kaikoura, the town cut off from the outside world by an earthquake in November, was once again isolated as landslides blocked roads